December 7, 2022
Nearly 220 million US consumers are estimated to online shop in 2023. More and more small businesses realize the importance of having a website where their customers can shop. The COVID-19 pandemic only accelerated the rate at which people shop online. In order to keep up with online demand, retailers must either provide their own eCommerce fulfillment services in-house or look to an order fulfillment company like CWI logistics. What are the basic characteristics to look for in these third-party e-fulfillment companies? Read on to learn more.
What Are Ecommerce Fulfillment Services Exactly?
Successfully fulfilling online orders is crucial. Not only does the product have to be of high quality but the delivery of that product must also be efficient and seamless. You should look for the following characteristics in a third-party logistics company that provides eCommerce fulfillment services.
Experience
Ample and diverse warehousing
Large service area
Extensive carrier network
Leverage world-class technology
Experience
This probably comes as no surprise but experience is an important characteristic to look for in a third-party company that provides eCommerce fulfillment services. Questions to consider include the following.
How many years have they been in business?
Who are their biggest customers?
What's their reputation?
Since fulfilling your customers' online orders is essential to the longevity and success of your business, you only what to entrust your fulfillment needs to experienced third-party logistics companies.
Ample and Diverse Warehousing
In addition to experience, you want to identify companies with ample warehousing. Moreover, depending on the nature of your specific products, you need a third-party logistics (3PL) provider that can meet various storage needs. Namely, ambient, cold storage warehousing, food-grade warehousing, cross-docking services, pick-and-pack services, etc.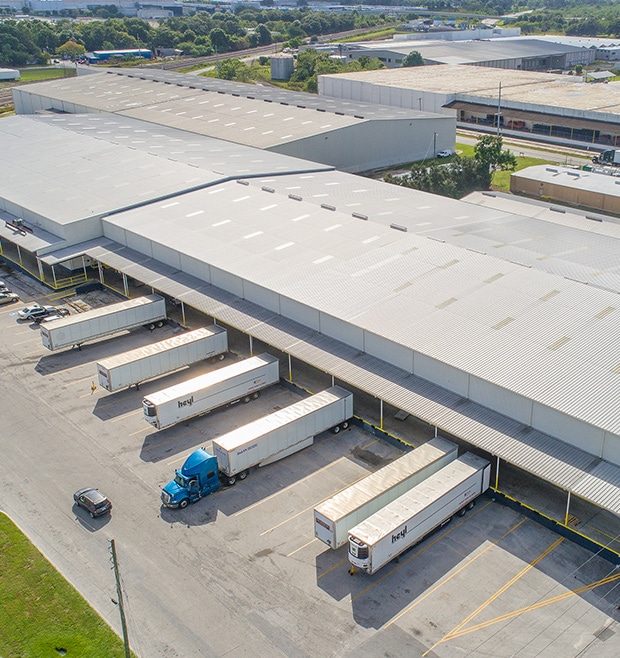 If your business requires large amounts of storage space, you must identify companies that have the capacity to store your products. If your demand ebbs and flows, you also want to ensure your 3PL has the ability to expand and contract with your business.
Large Service Area
Besides possessing ample warehousing, your third-party eCommerce fulfillment services provider must have warehouses distributed over a large geographical area. Additionally, if you have customers located hundreds or thousands of miles away, you need a 3PL that can get your products into their hands. Therefore, look for providers that serve multiple states or have the ability to facilitate national or international distribution.
Cost savings
Customizable transportation solutions
Efficiency
Since large and experienced 3PLs have massive volumes and extensive relationships with carriers, they can reduce freight costs. It's analogous to buying products in bulk. If a small or medium-sized business tried to acquire transportation on their own, they wouldn't get the same rates or access to the same benefits.
Leverage World-Class Technology
Lastly, an important characteristic of 3PLs that provide eCommerce fulfillment services is that they leverage world-class technology. Using the latest management systems allows retailers to track data in real time. Additionally, technology allows retailers to keep an accurate inventory of their products. Accurate inventory management is crucial so that retailers can expand and contract based on consumer demand.
Poor tracking results in either excess inventory or not meeting demand due to insufficient stock.
What Are the Benefits of E-Fulfillment Services?
Successful e-fulfillment services provide the following benefits.
Competitive edge
Accurate inventory management
Custom packaging and shipping options
Customer service excellence
Timely delivery of products to consumers
Cost-efficiency
Fewer headaches
Ecommerce Fulfillment Services with CWI Logistics
CWI has facilities spread all across Central Florida and works with a multitude of carriers and partners across the US. Since 1966, we've been serving a wide range of industries including apparel, promotion, ecommerce businesses, retailers, medical, and more. If your shipping capabilities are insufficient to fulfill orders, CWI offers flexible order fulfillment services that can be tailored to your business.
Reach out to us today for all of your eCommerce fulfillment services needs!