January 21, 2021
The International Warehouse Logistics Association (IWLA) recently reached its 125th year. In commemoration, the American Journal of Transportation (AJOT) released an article detailing industry advancements over that time with an interview from our vice president and IWLA chairman, Rob Doyle. Read on to learn more about warehousing and how it's an example of full-service logistics.
The History of Warehousing
At its core, the warehousing industry has always received and shipped boxes. "That is the nexus of what we have done for the last 125 years," explained Rob. However, the industry's most significant advancements have come from offering an ever-increasing menu of value-added services by embracing and capitalizing on new technology.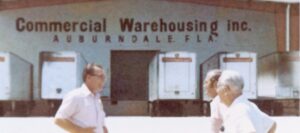 Technology
Technology made its first significant impact through improved inventory management systems that replaced the time-consuming and error-prone manual methods. These card punch computers paved the way for future systems, including today's radio-frequency identification (RFID) and complex inventory management software. This technology significantly increased the speed and accuracy at which products can be stored, moved, and shipped.
Lean Supply Chain Model
However, inventory management is not a remedy for all of the difficulties associated with warehousing. Full-service logistics leveraging real-time status information is one of the greatest demands of customers outsourcing their warehousing and distribution and is the heart of providing quality customer service. The speed at which information can be delivered improves the entire supply chain by providing real-time status updates that make "just-in-time" inventory models possible. This lean supply chain model also allows for greater cost control for the customer, which can then be passed onto the product's end-user. Former IWLA chairman, Jere Van Puffelen, elaborated:
"When you look at the potential for trimming back the inventory level a little because of the days you can take out of the cycle, and the faster cash flow that you can create – with everyone's cooperation – it provides a lot of opportunities for our industry [and customers] in the future."
Automation
There are a lot of manual processes left in the distribution warehousing industry. As automation continues to take hold, the next step in increasing efficiency will be harnessing the increased availability of fiber optic lines. These lines have the potential to open up data pipelines to further increase cost-effective measures. Doyle said, "The 3PL [third-party logistics firm] that can provide real-time information real fast and in a customizable fashion has a leg up on the competition."
Comprehensive Services
Doyle also spoke at great lengths about how technology pushes the warehousing industry beyond simply providing the established and basic function of receiving and shipping products:
"Traditionally, a warehousing company just provided warehousing services to store a customer's goods, and that was the extent of the relationship. Today, the relationship is more complex and multidimensional, as many 3PLs now offer a full suite of supply chain services to include asset-based transportation, packaging, kitting, fulfillment, transportation management, freight forwarding, and many other services."

"A 'one-stop-shop' has become more commonplace as our customers prefer a single point of contact where possible." Doyle continued. "This combining of services helps them in many ways to include complete supply chain visibility, fewer contracts to maintain, ease of invoicing, cost reductions, and a higher level of quality as they begin to view their 3PL as a partner versus a vendor. The ability to offer a more robust suite of services will also lead to a competitive advantage in the future."
The Future Full-Service Logistics Through Warehousing
The warehousing and logistics industry's future looks incredibly bright, but it's not without its dark spots. Another trend that isn't easy to overcome is the lack of management expertise in the field and a driver shortage on the transportation side. Doyle termed this "the war for talent." He concluded that the key to maintaining a quality workforce is creating a positive work environment, a sense of inclusiveness, and fair wages. Employees realize they have a path to more responsibility as they move up the ladder.
Over the last 125 years, the IWLA has played a vital role in meeting these industry challenges head-on. Having helped develop and grow the current workforce and push the entire industry forward, they have the knowledge and wherewithal to establish the needed quality operators in North America.
CWI Knows Warehousing and Full-Service Logistics 
Since 1966, we have been one of the leading full-service logistics companies in Florida and the southeast US. Today, we've got 11 strategic locations, and we provide the best turnkey 3PL solutions in the area. At CWI Logistics, we are experts in warehousing and can offer you many storage options and moving your freight. We've operated in climate-controlled warehousing for over 50 years, so we are extremely knowledgeable and able to customize your warehousing solutions based on your needs. We'll let you know whether your product requires climate-controlled storage based on our extensive experience.
Call us today to discuss all of your freight storage and logistics needs. We're here to help – from dock to dock and door to door.