August 22, 2022
Contract warehousing is precisely what it sounds like – outsourcing and engaging a third-party logistics company, known as a 3PL, to run warehouse operations for your organization. It's done through receiving, storage, shipping, and inventory management. Read on to learn more about the key characteristics of contract warehousing and its benefits.
What Are the Benefits of Contract Warehousing?
Contract warehousing offers many advantages, including flexible fee structures like fixed, costs-plus, or a combination of both. It also carries less risk for retailers and manufacturers because they aren't tied to the recurring costs of owning a warehouse. Companies will not face the burden of trying to sell one should they need to scale back their business for any reason. The main advantages of a contract warehouse include the following.
Reliability
Scalability
Centralized location
Affordability
Quality control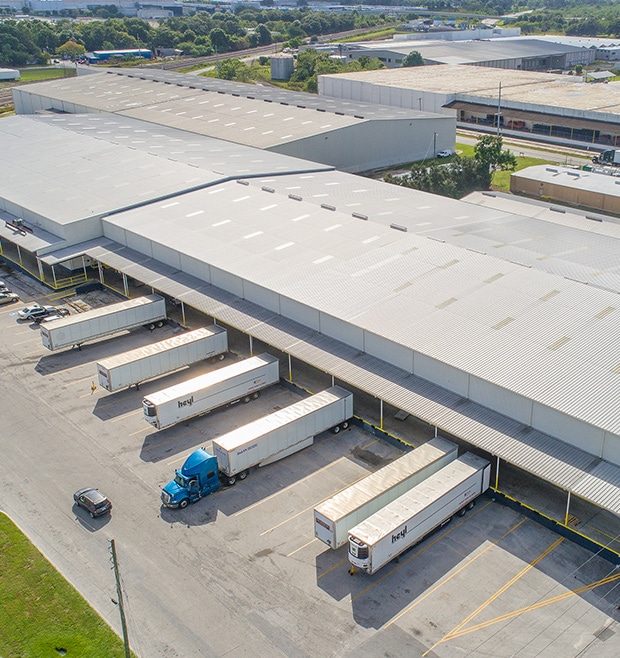 Reliability
Contracting out your warehousing needs takes the worry off of you, so you are free to focus on other areas of your business that require attention like customer service. Contract warehousing costs provide your business with predictable expenditure regardless of whether your company is experiencing a slow or busy season. Furthermore, it allows for guaranteed service periods preventing you from unexpectedly losing your warehousing capabilities.
Scalability
When your business's warehousing needs change you are limited to the space you currently have with private warehousing. On the other hand, contract warehousing allows for easy expansion and contraction of needed space.
Centralized Location
Contract warehousing makes it easier to handle multiple customer territories through a centralized location, even if those customers are outside of your business's geographic location. This also decreases delivery times for your company's goods.
Affordability
Contract warehousing is attractive to business owners because of its lower costs. The absence of maintenance and construction costs allows for lower capital investments and the ability to transition your warehousing from private to contract immediately. Furthermore, the prices are fixed, meaning they are predictable, and your business can budget for them in a more standardized way.
Contracting out your warehousing allows your company to reduce its assets while improving the capital turnover or assets-to-revenue ratio.
Quality Control
A third-party warehousing company allows businesses to control their inventory and operations through electronic inventory monitoring and daily reporting. The use of RFID radio-frequency electromagnetic fields (RFID) streamlines transmitted data and reduces the likelihood of human error.
Third-party warehouses are run by experienced staff and provide higher levels of quality assurance. Contract warehousing offers well-trained and knowledgeable employees who understand the industry and safety standards, including OSHA.
Import/Export Services
Contract warehouses help companies with their importing and exporting processes to ensure their company fulfills its sales and marketing potential. There is specific documentation and red tape to go through when it comes to shipping internationally. Third-party logistics companies that specialize in contract warehousing take this burden off the shoulders of retailers and manufacturers.
Cross-Docking and Value-Added Packaging
Effective cross-docking operations models increase a manufacturer's operational speed and productivity through an efficient load and reload process. Similarly, having a single point of contact provided through services like value-added packaging maximizes the project's communication and efficiency.
Are There Any Drawbacks to Contract Warehousing?
Companies who worry contract warehousing is not the right decision typically cite one of the following reasons.
Control
Many businesses who think it's better to forego contract warehousing cite having less control as the main reason for handling their warehousing needs themselves. They equate having their own warehouse to being able to manage their own processes more efficiently. Entering into a successful agreement also requires trust. However, the trust that a business places in a 3PL often provides better results than going at it alone.
Needs
Businesses with unique requirements may not feel they can find a 3PL that will appropriately meet their contract warehousing needs. Searching for and vetting any possible warehouses does take time. This is a fair point if you aren't familiar with the industry or don't know precisely what you want in your warehousing provider.
Again, the advantages of contracting out your warehousing far outweigh any risks or concerns.
Why Choose Contract Warehousing Over Private?
Private warehousing requires more day-to-day involvement in operations and inventory management, including logistics. They are billed monthly according to the square footage used. Therefore, you pay for all of your allowable space that month, even if a portion goes unused. This is simply a means to store your inventory rather than move it.
Trust CWI for Your Contract Warehousing Needs
At CWI Logistics, we are your experts in warehousing. We've operated in climate-controlled warehousing and transportation for over 5 decades. Let us take your logistics demands off your plate so you can focus on other aspects of your business.
We're always here and ready to serve all your third-party logistics needs!